Rolling. Rolling. Rolling. Rolling. Rolling. Rolling. Rolling. Rolling. OHSHIT HUMAN. Reverse. Reverse. Reverse. Rolling. Rolling. DEFEAT. A clap of thunder. Rain begins to pour. A man in purple tights, with a scowl on his face, asks
why you aren't good enough.

Restart.
Rolling. Rolling. Rolling. Rolling. Rolling. BIGGER AND BIGGER AND BIGGER AND BIGGER. I AM THE SIZE OF SKYSCRAPERS. I AM ROLLING UP ROAD CONSTRUCTION SIGNS. I AM ROLLING UP TREES. AND THEN SEA MAMMALS. AND THEN CLOUDS. AND THEN RAINBOWS. FUCK YEAH, THE KING IS PLEASED WITH ME <3


Katamari Damacy, means "clump soul".  You are the prince and you travel to different planets. You are on a mission to fix your father's, The King of All Cosmos, mistake. He accidentally destroyed the Universe and you must recreate the cosmos, stars, and consolations. To do this, the goal of this game is to roll stuff up. You must grow your Katamari, a-giant-and-colorful-sticky-ball by rolling up objects. You begin to roll up small objects, then medium size ones, then larger and so on and so forth.
Once you insert this disc into your PS2, your life changes at the intro.
You think to yourself,  did I just drop acid?
watch the intro here
Katamari Damacy is a puzzle-action game.
The main focuses of this game, besides it being fucking amazing, are:
novelty, ease of understanding, enjoyment, and humor!
One of my favorite things about this game is that there is no health meter or death.
My anxiety about getting down to low health or being on my last life has no place in this game.
I simply just roll shit up and recreate the Universe.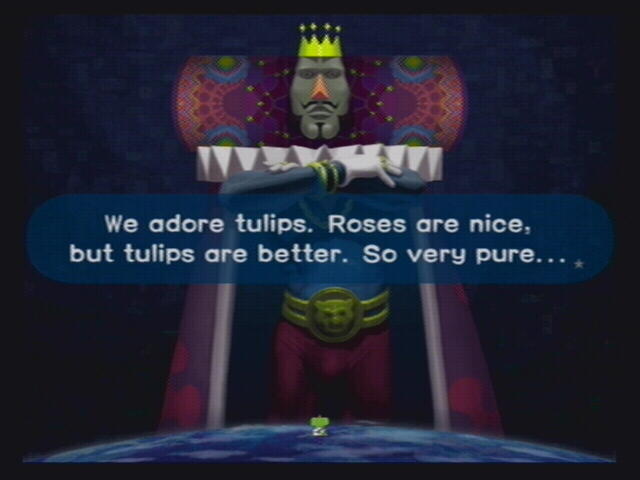 ROYAL RAINBOW!


NA NA NANANAN NANNAN ANANNAN NNANN#$%$#%#$% nnnANNNA#$@#$#$%t#@@@!!!!!!!